Setting up µTorrent
µTorrent is probably still the most popular torrent client in the world and it is available for Windows, Mac OS X and even interface-less on Linux. Transdroid connects to its web UI, which needs to be enabled. Note that this is not the similarly named and functioning µTorrent Remote feature.
Open the µTorrent preferences and go to the 'Web UI' tab (Windows) or 'Remote -> Web UI' (Mac) screen. Enable the Web UI and enter a username and password. I advice to use a specific Alternative listening port and set it to the default port 8080.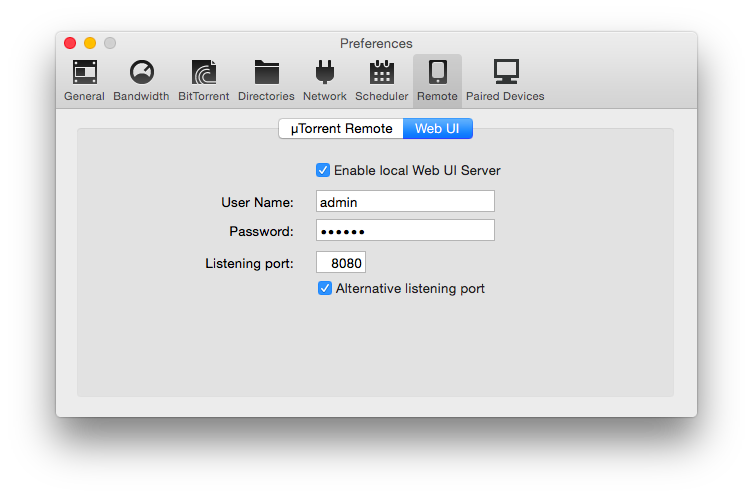 You should now see if the Web UI is working correctly by opening your browser and go to http://localhost:8080/gui. You should see the Web UI displaying the currently running torrents.
Allow access from anywhere
The next step is very important if you want to use Transdroid to control µTorrent from anywhere you go and not just your home Wi-Fi network. For Transdroid to be able to access the Web UI, you need to set up a port forward in your home network's router or modem.
Setting up a port forward is a bit tricky, but there are many sites that can help you. First, you need to know the local IP address of the computer running μTorrent. This looks something like 192.168.1.20.
On Windows, open a Command Prompt window, either form the Start menu or using WinKey + R and typing 'cmd.exe'. Now type 'ipconfig' to show a listing of all network parameters. You need to look for the IPv4 address.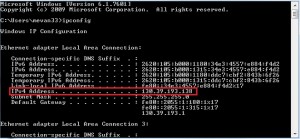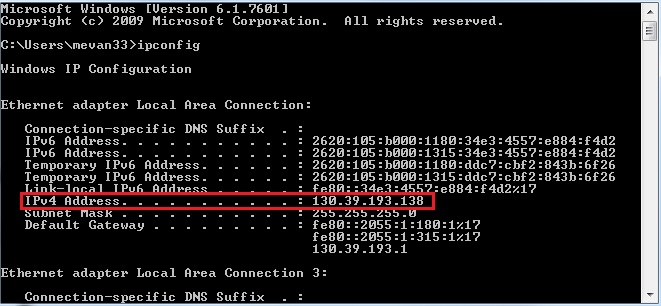 On Mac, open the System Preferences and go to Network. Make sure the right adapter (Wi-Fi or Ethernet) is selected and the IP address is shown directly under the Connection Status. Alternatively you may open a Terminal and run the 'ifconfig' command. You find the IP address listed as 'inet' under usually the 'en0' interface.

Finally we set up the actual port forward. This is also called 'NAT route' or 'Open Port'. The specific instruction differ highly from device to device, but you generally go to the web interface of your router or ADSL modem (often located at http://192.168.1.1) and find the NAT route/port forwarding feature.
Your should forward all incoming traffic on your µTorrent Web UI port to your internal IP address. So if 192.168.1.20 is the IP address of the computer running the Web UI, and choose to use port 8080 in the Web UI setting, you forward all traffic from port 8080 to 192.168.1.20 on port 8080. For detailed instructions for many routers, visit Port Forward.com. You might need to restart your router for the changes to take effect.
Setup Transdroid
On your phone, open a browser at http://transdroid.org and hit the Download link to download the latest .apk file. When the download is finished, tap it and Android should propose to install the app. If this is the first time installing an application outside of the Play Store, you might have to enable the setting for 'Unknown Sources'. This setting can be found on your device's general settings in the 'Security' section.
Open up Transdroid and go into settings to 'Add new server' and select 'Add normal, custom server'. Under 'Server type' select 'µTorrent'. Enter the user name and password that you entered in the µTorrent Web UI settings.
That's it! Hit back twice and see Transdroid loading your torrents list in all its glory!